Homage to a Broken Man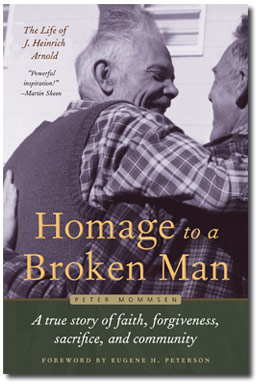 The Life of J. Heinrich Arnold
By Peter Mommsen
Those who knew J. Heinrich Arnold later in life wondered at the way people were drawn to this strange man with a thick accent and easy smile. In his presence, complete strangers poured out their darkest secrets and left transformed. Others wanted him dead. What made him different? Few knew Arnold's past, or could even have imagined the crucibles he had endured...
Responses to Homage to a Broken Man
Dan Berrigan
What a tragic, beautiful life, and recounted with such candor and delicacy. I am delighted - and heartened - and moved to tears. Some episodes hurt, reminding me how thinly buried certain events in my own life are. I was exiled in 1965 by the Cardinal of New York, sent to Latin America with a one-way ticket. He blessed the Vietnam War, I was troublesome. Then in 1980, our judge in Norristown said he wished he could send us to a leper colony...I'd worked with lepers in Hawaii. They wrote the judge about our connection and invited him to visit us and "be healed."
Mairead Corrigan Maguire, Nobel Peace Prize Laureate from Belfast, Northern Ireland
What a challenging, deeply moving, and honest book! I read it in two sittings--unusual for me. It always takes longer, but I found it so challenging. Heinrich and Annemarie suffered so much. Their love of Jesus, their commitment to their faith, their self-giving in living the gospel of love and nonviolence touched me deeply. Thank you for bringing their spirit alive to those who did not have the joy of knowing them.
Philip K. Eichner, S.M., Chairman of the Board of Directors, The Catholic League
Heinrich Arnold's life is a very relevant one, not only to the Bruderhof, but to the world at large. His witness at the apogee of the dark night of Nazism alone justifies respect and admiration. Added to that was the suffering imposed on him by his own community. This type of suffering is always the hardest. Arnold's witness is particularly meaningful for those who see Christian community as an imperative, because this biography warns us that selfishness and the intoxication of power can infect the best of good intentions. I found "Homage to a Broken Man" to be very well written and fascinating...May it receive the appreciation it deserves.